Yesterday, we revealed our #AtoZChallenge theme, #AuthorApril. Today, I get to kickoff our campaign with a book review of BOOKISHLY EVER AFTER by Isabel Bandeira--that's quite a few B's, isn't it?
In this post, I have a few special surprises too, so keep reading because there might be a free book at the end...(I've never been very good at surprises.)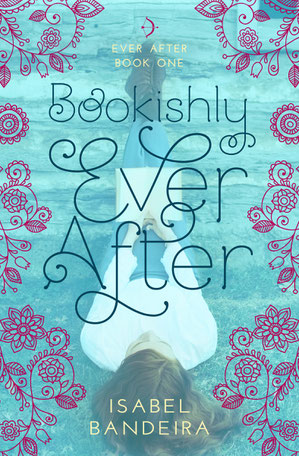 Book Blurb:
In a perfect world, sixteen-year-old Phoebe Martins' life would be a book. Preferably one filled with magic and a hot paranormal love interest. Unfortunately, her life probably wouldn't even qualify for a quiet contemporary.
Everything changes when Phoebe learns that Dev, the hottest guy in the clarinet section, might actually have a crush on her. So, Phoebe turns to the heroines in her favorite books for advice on a personality overhaul. Becoming as awesome as her book characters isn't as easy as it sounds and when another girl nets Dev for herself right from under Phoebe's nose, she's crushed.
Then, to up the suckage, she gets assigned as his co-counselor at a sixth grade camp and has to spend an entire week tied to the hip with the one guy on the planet she wanted to avoid. Can she make it through the potential danger of romantic bonfires and nature walks without Dev figuring out she's still not over him, or will her counseling career end in emotional disaster? Can she ever go back to her happy world of fictional boys after falling for the real thing?
Boyfriends, book boyfriends, and books. Every page of BOOKISHLY EVER AFTER revolves around books. Poor Phoebe. She can hit the target every time in archery practice, but that girl doesn't have the first clue about flirting with boys. (I know the feeling.) Phoebe grabs a notebook and writes down helpful hints from her favorite book heroines, but she starts to lose herself, her awkward awesome self, and turns into a combination of her book heroines. With her transformation nearly complete, she manages to catch the attention of Kristopher Lambert--her book crush Aeden's doppleganger. Kris likes the girl Phoebe pretends to be, not the knitting archer, flute player, book nerd she really is. That's the girl Dev likes. Will Phoebe leave her bookish ways behind for hot Kris or will she figure out that Dev's the guy for her? I'll never tell and Bandeira doesn't dish until the last page.
Bandeira also begins with B.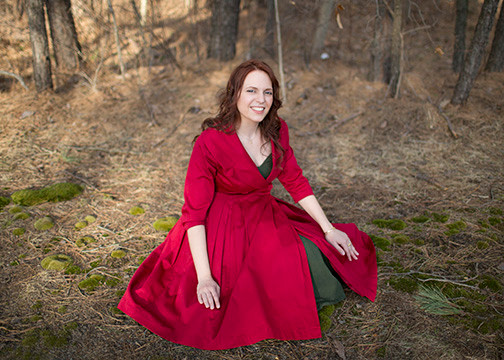 Isabel Bandeira

Photo credit: Rachel McCalley
Isabel Bandeira grew up surrounded by trees and lakes in Southern New Jersey, right on the edge of the Pine Barrens. Her summers were always spent in Portugal, where the cathedrals, castles, and ancient tombs only fed her fairy tale obsession. Between all those influences and her serious glitter addiction, it wasn't a surprise when she started writing stories of her own.
In her free time between writing and her day job as a Mechanical Engineer who designs and develops medical devices, she reads, dances, figure skates, and knits.
Isabel lives in New Jersey with her little black cat, too many books, and a closetful of vintage hats.
She is represented by

Carrie Howland of Donadio and Olson, Inc

.
BOOKISHLY EVER AFTER is her debut novel. To find out more about Isabel,
visit her website.
To buy her book:
Bookishly Ever After.
In the next month or two, I'll post my interview with Isabel. She'll reveal the inner workings of her brain, she'll share with our readers the inspiration behind her book, and you''ll find out what's next for her and BOOKISHLY EVER AFTER. She'll also dish on her book crushes. Be sure to sign up for email updates so you don't miss Bandeira's interview.
Remember that surprise I mentioned in the beginning of the post?
NAME YOUR BOOK CRUSH GIVEAWAY:
Admit it. We all have book crushes. For me, my book crush changes with every new book I read. (Or really I just add my new book crushes to my closet of book crushes...Jacob, Peeta, Gansey, Park, Will Grayson (both Will Grayson's), Levi...I could go on and on).
TIME TO DISH: I'm curious (AKA nosy). I want to know your book crushes. Sign up to receive email updates from the blog-
-there's that little Email Signup menu over on the right. Then, leave a comment telling us your book crush, and you'll be entered to win
a copy of BOOKISHLY EVER AFTER. Each time you share this post via Google Plus, Facebook, Twitter, Tumbler, or Pinterest, it will count as an additional entry, so get busy--offer ends Monday, April 4 when Alison reveals #AuthorApril C of the #AtoZChallenge.
Today's Book Crush:
Gavriel Duval from GRAVE MERCY BY Robin LaFever
Alison, who's your Book Crush?
Sharing the Writer Love One Letter at a Time,